You might think it would be simple to clean an air fryer since these appliances just use hot air and little oil to cook meals. 
That has to be better than cleaning up after deep-frying when spent fat has to be thrown away, and oil droplets may end up all over your stove. Indeed, air fryer food may still release oil or fat that collects beneath the pullout basket tray. Also, delaying cleanup will make it more difficult when you finally decide.
If you don't regularly clean your air fryer, it won't operate at its best and may collect odors and flavors that may seep into your freshly prepared meal. Additionally, grease can accumulate on dirty air fryers, which can smoke and affect the quality of your meals.
We realize how cleaning the mess post-cooking is the least favorite chore of every home chef. Hence, we have come up with the best tips to clean your air fryer quickly with no effort. Read this life-saving article thoroughly, and thank us later! 
Tips to Quickly Clean the Air Fryer
Some tips are the ones you applied to clean the oven. You will see how easy it is to keep your kitchen area spotless.
1. Don't Let the Grease Sit Overnight
After cooking is complete, disconnect the air fryer, allow it to cool, remove the oil from the pullout basket and discard it. Nothing good can come out of putting off the cleaning since the longer you wait, the harder it would be to clean the dirty parts.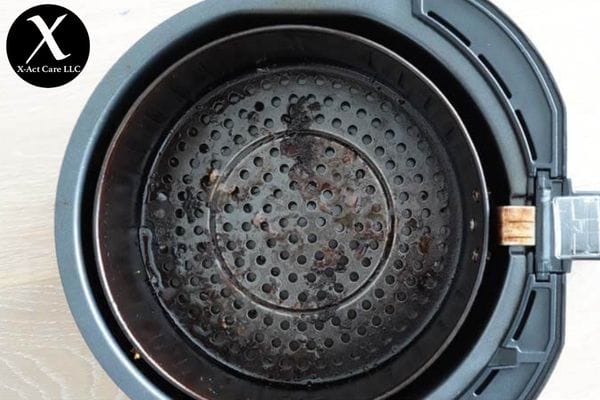 2. Don't Forget the Basket or the Grate 
Simply cleaning the exterior and the removable parts of the air fryer is not a good enough approach to clean it completely. Fried items leave a lot of crumbs behind, which can easily get stuck in the grate or the basket. 
The ideal way to clean the basket is to use something long and pointed, like a wooden skewer or toothpick. Using these, you can easily poke out the food particles from the basket and get rid of any build-up.
3. Use Lukewarm Water and a Mild Soap 
If you are only going to remember one of the tips mentioned in this article, please let it be this one. Many chefs repeatedly mistake scrubbing their air fryers with harsh detergents and cold water to get the oil and dirt off. If you love your air fryer ¡don't do that! 
Instead, clean removable components with lukewarm soapy water. If the dirt is too difficult to remove immediately, simply soak the parts in the soapy water for half an hour, and it will loosen up. This way, you will be able to get rid of the grease without having to spend too much effort and time on scrubbing, and it won't even cause scratches to your appliance! 
4. Wipe the Inner Parts with a Warm and Damp Cloth
A moist cloth dipped in lukewarm, soapy water can be used to clean the interior of the air fryer. Nevertheless, the drawer and basket need to be taken out. 
Clean the heating element after checking for grease and food particles. After drying the washed areas completely, reassemble the parts. 
5. Using the Dishwasher
Some air fryers come with dishwasher-friendly components. Read your model's instruction manual and see if some parts are safe for the dishwasher. Make sure to only load those parts and follow the instructions word-to-word to avoid any irreparable damage to your appliance. 
6. Use Stainless Steel Wipes for the Exterior 
Use a wet sponge or towel and mild detergent to clean the outer parts. Using chemicals like bleach or glass cleaners is a big no too. Also, make sure you never immerse your air fryer in water to clean it. We first recommend using stainless steel wipes for cleaning the appliance's exterior.
Wipes made of stainless steel are useful household cleaning items that may be used to clean various items. For example, these wipes clean prints, stains, and smudges from your stainless steel dishwasher and refrigerator.
7. Never Overload the Basket with Food
Use the frying basket and pan by the directions to prevent food from hitting the heating element. Never overfill the air fryer when using it. It is the most important rule. Excessive food in the basket results in improper cooking, a longer cooking time, and a higher risk of meal and grease particles contacting the heating element.
8. Use Lemon to Get Rid of the Odor 
Even after cleaning the appliance properly, it may still smell strong when a food releases a strong odor when cooking. Before cleaning it, we advise soaking the food drawer and basket in water and soap for approximately 30 to 60 minutes. If the odor still exists, slice a lemon into pieces, smear it onto the basket and compartment, and then rewash after half an hour.
9. Take Care of the Nonstick Coating
Avoid using steel wool, metal tools, or other scrubbers since they might damage the nonstick coating by scratching or chipping it. You should stop using the air fryer if the nonstick coating is peeling. Instead, request a new basket over the phone from the company's customer care, or try returning the air fryer to the shop.
It's simple to prepare tasty, healthful cuisine in an air fryer. When done correctly, cleaning the equipment is also effective. Cleanup will be simple if you stick to the plan mentioned above each time you use your air fryer.
You must thoroughly cleanse your air fryer after each use if you want it to function as well as the day you first used it. By doing this, food fragments and grease accumulation are kept from harming the appliance. After cleaning your air fryer, let it completely dry before storing it in its original packaging or another spot that is both clean and dry.
Book a Cleaning Service Today!
Check out our Public Profiles: