What is Care.com?
Care.com is one of the most predominant dominating forces in the United States care services online marketplace. The brand has an estimated amount of more than 32 million members across 20 different countries and they specialize in 6 different categories: child care, senior care, tutoring, daycare, pet care and care.com house cleaning jobs.
At first glance this seems like the perfect place to find housekeeping services for your home. It's a service professional's dream, but there are two sides to a coin. With a vast pool of customers, Care.com offers more job opportunities than a professional service can take. Therefore, choosing housekeeping services may lead to an unpleasant experience.
Are care.com Housekeepers background checked?
Yes, all professional providers must pass an online background check.
Do care.com Housekeepers receive any specific onboarding training by the company?
There is no onboarding training like other companies require. Care.com only connects service providers with the end customer. They don't know the providers other than the result of a background check and the good faith information the provider delivers online when applying to become a member.
Do Housekeepers in care.com have insurance?
Some of the service providers have insurance, others don't have insurance. Care.com opens its doors to anyone who can apply as a service provider, with or without experience in the field. It is your duty to check each provider to make sure they are bonded and insured.
How is the quality of housekeepers from Care.com?
You can find big local companies or individual providers. Care.com has quite a large amount of providers with 4.5 to 5 stars. Check their reviews and choose from the best.
I am a provider, what are the advantages and disadvantages of screening with care.com?
If you are a provider, these are the advantages and disadvantages of Care.com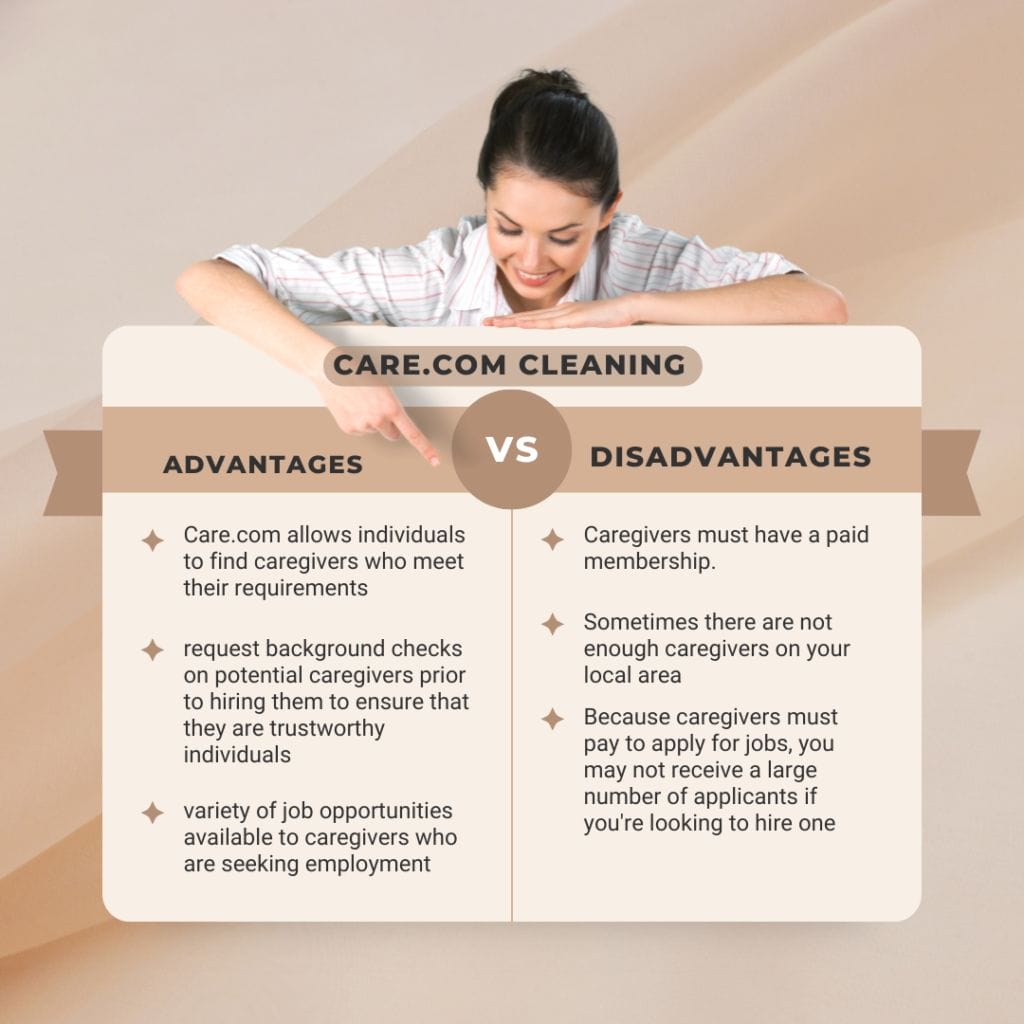 Advantages:
Care.com Allows individuals to find caregivers who meet their requirements
Permits you to request background checks on potential caregivers prior to hiring them to ensure that they are trustworthy individuals.
There are a variety of job opportunities available to caregivers who are seeking employment.
On the other hand, Care.com has a couple of drawbacks:
To apply for caregiving jobs you find, you must have a paid membership if you are a caregiver.
Because caregivers must pay to apply for jobs, you may not receive a large number of applicants if you're looking to hire one.
Looking for a professional cleaning service?
X-Act Care Cleaning Service offers a local solution of maid and housekeeping services in the Dallas surroundings. Whether you need a one-time deep clean or regular housekeeping services, we can help you find the perfect provider to meet your needs.
You must be tired of trying a website with a bunch of house cleaners but you still don't know how to decide? Well, let's do it together. At X-Act Care Cleaning Service we believe that everyone deserves a clean home, and our goal is to help you find the best possible maid service for your needs at an affordable price. We offer cleaning services with the best quality in Dallas surroundings. Professional Housekeepers who are trained by us will make sure your house is cleaned the way you want it. You don't have to worry about anything, just sit back and relax!
We also offer a money-back satisfaction guarantee on all of our services so that you can be sure you're getting what you expect. If for any reason you are not satisfied with your service, we will work to correct the mistake and make sure it doesn't happen again.
Why you should not to use a big cleaning company locator like care.com?
-You can't be sure of the quality.
-Liability relies on the small companies that serve you and sometimes they are not bonded or insured.
-Prices vary a lot and you might not get what you expect.
-It's hard to find a good provider that fits your needs.
We are the best altyernative to Care.com House Cleaning Jobs
At X-Act Care Cleaning Service we take pride in our work and want you to be happy with your service.
If you're looking for a reliable, affordable, and professional cleaning service, contact us today!
Professional Cleaning Services
Maid Services
House Cleaning jobs
And remember, if you are too tired to do your own cleaning, pick a company who works for you, and with you, anywhere anytime. Pick X-Act Care for your home.
BOOK YOUR MAID SERVICE TODAY!