Health Care Cleaning Services
X-Act Care Cleaning Services is offering Health Care Cleaning Services for your healthcare facility that include cutting-edge technologies, advanced training and education, customer service programs, disinfecting programs, and integrated cleaning systems.
In order to maintain the highest standards and improve patient outcomes, it is crucial to select a local professional cleaning service providers with this knowledge and experience.
Common Services for Urgent Care Facilities, Doctor's Offices, and Dental Offices:
Office Cleaning
Infection Prevention
Floor Cleaning
Restroom Disinfection
General Disinfection Services
Breakroom Cleaning
Waste & Recycling Collection
Common Spaces
Cafeterias
Windows (inside and reachable)
The X-Act Care Cleaning services Team will ensure that the reception areas, restrooms, waiting areas, and patient exam rooms are cleaned and sanitized appropriately. Our program provides highly trained specialists who will clean and disinfect in accordance with your specifications.
Clinics and Dialysis Facilities
In addition, we are adept at cleaning all areas of medical clinics and dialysis centers, including rooms, restrooms, waiting rooms, breakrooms, and reception areas. Our methods and sanitation procedures aid in the removal of pathogens, thereby preventing the spread of bacteria and viruses.
Outpatient/Surgical Centers
Our X-Act Care Cleaning Services Team provides Certified Surgical Cleaning Technician (CSCT) training to ensure that the surgical cleaning and disinfecting staff is highly skilled and well-prepared for the surgical environment.
Supportive Living
It is imperative that assisted living facilities maintain a clean and sanitized environment. X-Act Care cleans and disinfects resident rooms, common areas, kitchens, dining rooms, and a great deal more to ensure a healthy environment for all facility residents.
Hospital Cleaning Services
We recognize the significance of a hospital's environmental services staff being highly qualified. We can reduce the risk of cross-contamination and hospital-acquired infections by using safe cleaning practices and procedures.
Our program includes cleaning and disinfecting of lobbies, nurse stations, operating rooms, patient rooms, and waiting areas, among other areas.
In this ever-changing Covid-19 pandemic environment, we can work with you to develop a comprehensive cleaning and disinfecting solution that meets your facility's requirements.
Services in Healthcare and medical facility cleaning 
To ensure the safety of patients and visitors, hospitals, clinics, and medical offices require professional commercial cleaning services. When the highest cleaning standards must be met, you can rely on the X-Act Care Cleaning team to provide a thorough and consistent clean on every visit.
Our highly trained teams clean and disinfect using cutting-edge technology and novel techniques to ensure a sterile environment in areas where it is most important. Coverall is the gold standard for hospital cleaning services, from the waiting area to the operating room.
Clean Healthcare Facilities Constitute Our Main Goal
X-Act Care Cleaning Services is a company that aims to contribute to the cleanliness, safety, and optimal health and wellness of healthcare facilities. We desire for all patients who visit local medical clinics to be happy and healthy.
We want the medical staff in Dallas and Fort Worth to be happy and healthy as well. Our medical cleaning services are meticulous, exhaustive, and attentive to detail. Our technicians spare no expense.
They utilize the most dependable and efficient cleaning formulas available. We work diligently to create and maintain sterile and hygienic medical care environments in which the public can have complete confidence.
If you are interested in comprehensive medical office cleaning, you will appreciate our comprehensive approach to service. Our technicians are among the most thorough and meticulous professionals available. To put it mildly, they take healthcare cleaning service seriously.
Comprehensive Care for a Variety of Healthcare Facilities
Healthcare facilities like Parkland Health-Dallas, Baylor Scott & White Medical Center, UT Southwestern Medical Center, Texas Health Presbyterian Hospital Dallas are not the only ones that need great cleaning services. If you have a small facility, our X-Act Care Cleaning team can accomodate to your needs as well.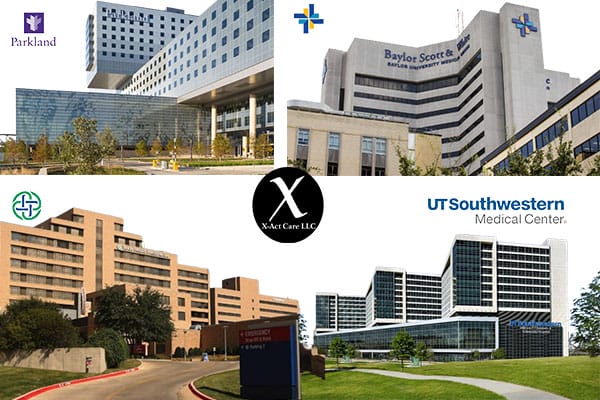 All facilities present janitorial cleaning services with unique challenges, challenges that many janitorial companies are simply ill-equipped to handle.
Providers of healthcare janitorial services must have experience and knowledge of practices that reduce cross-contamination and healthcare-associated infections in addition to providing clean environments.
X-Act Care Cleaning Services is a commercial cleaning company whose owners recognize that appearance alone is insufficient to determine the efficacy of cleaning efforts. We have the equipment and technical expertise to deliver cleaning results that go beyond merely "appearing" clean.
What are you waiting for? Your search for a home cleaning service in Dallas is over! Click here and book a cleaning now!
Pick a company who works for you, and with you, anywhere anytime. Pick X-Act Care for your home.
BOOK YOUR MAID SERVICE TODAY!
Check Our Public Profiles
Our Most Recent Posts
Cleaning is one of the primary concerns of everyone. It doesn't matter what you are cleaning, whether you, your house, clothes, or other things. It eventually concerns your and others' health. If we talk about house cleaning, then this is good news for people who want their property to retain its value when they sell…

---