The Ultimate Guide to Clean and Organize Your Home: A Room-by-Room Guide
Having children, grownups, and pets in your home can make it feel like every area in your house needs to be cleaned. Get organized one room at a time in your family's house so that you can take back control of the clutter.
How To Organize Every Space In Your House
Use the following strategies in each space of your house to maintain order:
Reduce the number of things you own. It's the quickest and most efficient way to get things done.
Think outside the box. With fewer possessions, you're forced to get more imaginative with how you use them.
Remain steadfast despite setbacks. Keep your cool, and don't panic if you don't have what you need on hand.
How To Clean And Organize Your Refrigerator
Bring a garbage can near the refrigerator and take everything out at once into the garbage can in the bin. It's a good idea to sort as you go along. Find out what may be composted in your region and schedule a time to drop them off. Don't eat anything that isn't compostable or has gone bad, such as expired food or anything that has become discolored or stale. Everything else is thrown out.
Spritz the interior with a 1:1 solution of water and white vinegar, then remove the shelves and drawers to allow the solution to sit for a few minutes before using it again. To speed things up, use a large scrub brush that can quickly remove stubborn stains. A kitchen appliance cleaning package simplifies cleaning damp areas and hard-to-reach nooks. Finish by cleaning out the interior and putting the racks and bins back where they belong.
It's time to face the facts: if your fridge isn't organized, it's impossible to clean in less than an hour. To make future cleanups go more quickly, get everything gathered today and keep it that way. Labeling and dated goods make it easy to determine when to get rid of something. Preparation and leftover meals should be placed at the top, while meats should be placed at the bottom. Organize like-minded things into a group: Condiments and dairy items (milk and yogurt) should be placed on separate turntables.
Close the door and wipe it down
Vinegar is a reliable and efficient disinfectant for stainless steel fridges, so use it to clean the doors and handles. Instead of vacuuming your refrigerator coils, use a flat microfiber duster to clean the crumbs accumulated under the appliance swiftly. Having a clean and well-organized refrigerator makes getting ready in the mornings a little easier. It was all worth it in the end!
How To Clean And Organize Your Living Room
Remove any unnecessary clutter from the living area by putting it in a bin or basket—shoes, games, and so forth. Set the trashcan aside for the time being; we'll get to it later.
The couch needs a makeover
If you have a leather couch, use a moist rag to wipe off the surface with soap and water. The sofa can be easily cleaned using a handheld vacuum if you have enough time.
Vacuum the rug with the vacuum cleaner. Pests can be kept at bay by vacuuming regularly. Sweep the bulky items to the curb for easy disposal. It's possible to undertake a more thorough sweep at a later date when you have more time.
Clean the floors with a rag and a few spots of solution
The floors need to be cleaned. They accumulate dirt, crumbs, and other debris. Soak a sponge in some warm, soapy water and use it to clean up the mess. When the vacuum didn't get all of the spots, go over them one more time.
Make use of microfiber cloth or duster to sweep over areas prone to collecting dust rapidly.
Get rid of spots on the glass
Spray a rag with the glass cleaner and wipe the surface. You will need less cleaning product if you do this. In addition, it will help you to focus on the more noticeable splatters and dirt on the glass. The lint won't get all over the place because you've already cleaned the area.
How To Clean And Organize Your Bedrooms
Do a quick sweep of your bedroom to get the ball rolling on your organizing effort. Get rid of the trash, put your dirty clothes in a laundry basket, and put your bed together. You'll be able to begin with, a clean slate after this initial sweep.
After you've gotten rid of the things you don't need, it's time to put the things you do want back where they belong: in the jewelry box, on the bookshelf, and in the closet. Set aside any items that don't yet have a specific place and gather them together.
Clean up your dresser drawers
Reconsider stuff you haven't worn and reorganize your drawers based on kind of clothing—pants, T-shirts, and so on. Small items like socks and underwear can be kept neat with the help of drawer dividers or dresser drawer organizers. Clothing won't pile up on top of your dresser, and you'll have more room on the floor.
Now that your room has been decluttered and organized, it's time to get down to business. Wipe down surfaces, vacuum and dust rugs and shelves, and light fixtures.
How To Clean And Organize Your Game Room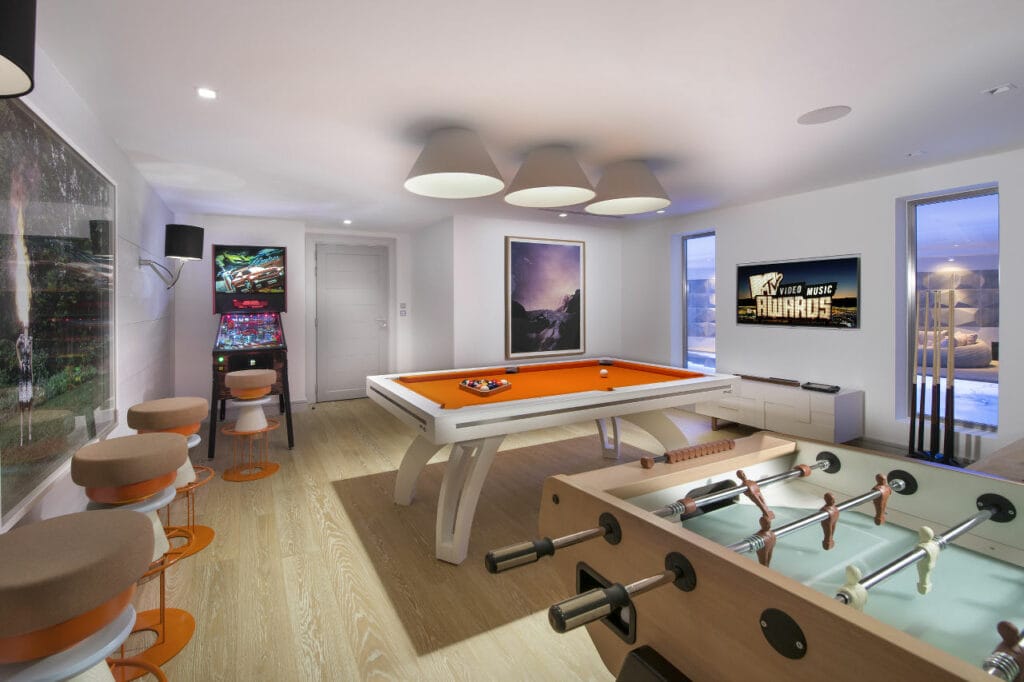 Vacuum and Dust Everything
Dirt and debris build-up on your gaming equipment faster than you might imagine. Do a quick five-minute clean up every few days. Wipe off your belongings using a microfiber cloth.
This includes your desk space, as well as your keyboard, CPU, mousepad, and chair, among other things.
Poorly-managed cables can accumulate more dust particles. You may route and hide your wires with a cable tray or raceway.
Snacks should be kept away from your gaming table if feasible. Roaches and other bugs might be attracted to it through food waste.
How To Clean And Organize Your Office Space (At Home)
In your home office, it's easy to let things pile up and get out of hand. Please clean up the clutter before it takes over your home or workplace. Using the System of Three, go through every scrap of paper within your office and either shred/throw it away, file it, or take action from it. Use a color-coded filing system to keep track of your most important documents.
Filing System Color Coding
Well-organized filing systems are a solid indicator of the efficiency of a work environment. It's helpful to color code the file folders in your filing system into five distinct categories and then provide a specific label to each one.
Create a postal station in your home office to keep track of all the mail coming in. Make a folder for each family member, one for bills, one for outgoing and incoming mail, and so on. File incoming mail as soon as it arrives at the mail station. When you're done, go over each folder once a week for a few minutes.
Label your files, drawers, and boxes using a quality label maker for a simple method to organize your office. You'll always know where something is when someone needs it.
You can categorize your books by category, color, or size. Organizing by color is a great way to add visual interest to your area while maintaining a clutter-free and ordered appearance.
Cords Should Be Kept Out Of Sight
Cords can get tangled up in drawers and on desktops. Store and hide all the cables in a beautiful storage container.
How To Clean And Organize Closets
Everything in the closet should be removed
Although it may appear to be a severe step, this method is the most effective. If you want to be satisfied with the finished product, you should empty the closet.
Surfaces and floors should be cleaned
Wipe out the entire closet using a rag dampened with warm water. Clean the walls and shelves from top to bottom. Do a thorough job of vacuuming, or if you have hardwood floors in your closet, sweep and wash the surface.
Sort and organize your wardrobe's contents
Discard anything dirty or otherwise compromised. Reduce your clothing stock by at least 50%. It's a good idea to put everything from a backpack to a pocketbook to a scarf in a designated area of your room. A separate space should be set aside for everything from gowns to jeans to blouses to boots to T-shirts.
Hang or fold only the clothes you wear
Use your new matching hangers and hang up only those items ready to be returned to the wardrobe. If you'd want to take things a step further, you can categorize them by color as well—stack objects on top of each other by folding them in half. A seasonal closet in a different room or storage unit can be a good idea if you have the space.
How To Clean And Organize Your Kitchen Cabinets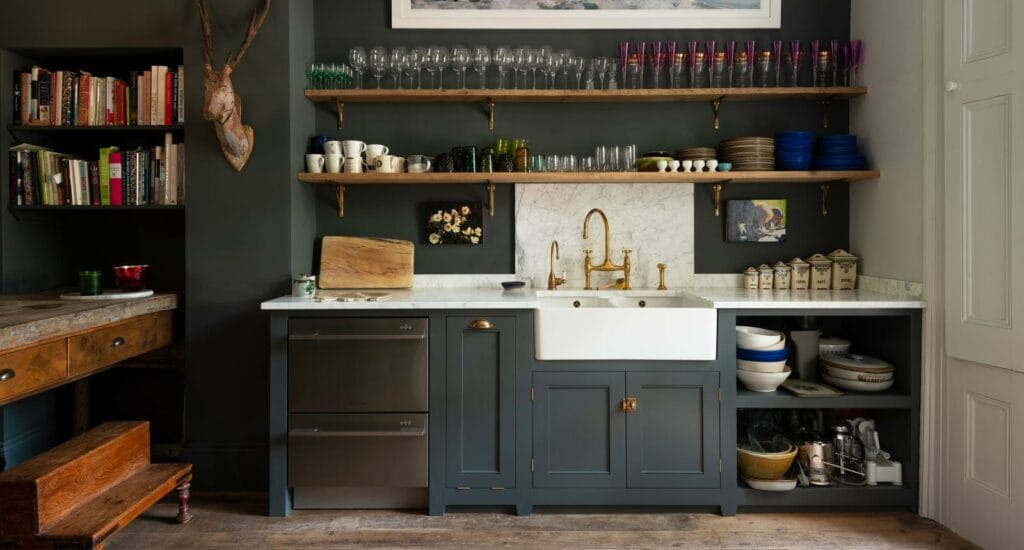 Clean your kitchen cabinets for a new beginning. Prepare your kitchen counter by clearing out all of your cabinets and drawers. Using a sponge or microfiber cloth, you'll be able to reach all of the hard-to-reach places and get rid of any undesired or expired things that have been hiding in the back.
One part laundry detergent or dish soap and two parts water in a spray bottle can clean wood, vinyl, metal, and plastic cabinetry.
Place All Heavy Items On Your Bottom Shelf
Make sure to put the heavier and larger dishes on top of each other while arranging your cupboards. You'll find it easier to get your large plates and bowls into and out of your cupboard if you put them on the bottom shelf.
Use a bottom cabinet to store the huge, oddly-shaped pots and pans. Place the pots and pans on one side of the room and their lids on the other. Stack them in this order. In this way, they will be easily accessible and easy to locate
Group Ingredients That Are Similar
Group ingredients are frequently used together in the same cabinet for time-saving purposes. So that you don't have to open each cabinet in search of ingredients like salt, sugar, and flour when you're baking a recipe. As a bonus, this will make cleanup a lot easier.
Everything Should Be Labelled
The last thing anyone wants to do when they get up is unintentionally adding salt to their morning brew. Everything should be clearly labeled to avoid any confusion. Chalkboard stickers can be used to identify all of your containers to give your closet a unique look.
Having a hard time finding the right spice for a dish since you've sifted through all of your seasonings? On a cabinet rack, arrange each container. Remove all the spices from the jar at once and neatly place the ones you don't need back in.
How To Clean And Organize Your Pantry
Before organizing your pantry, take everything out and give it a good cleaning. Keep track of expiration dates and get rid of anything that's no longer needed. Freeing up space and keeping things organized will significantly benefit this.
Clean and Dry the Shelves
Warm, soapy water can be used to clean and organize the shelves in your pantry. You may want to vacuum them first if they appear to be particularly "crumby" in appearance. Baking soda and a wet (hot water) paper towel can remove stubborn stains.
Apply baking soda to the affected areas and use paper towels to absorb the solution. Wait a few minutes before using. The goopy stains should be easy to remove, according to my experience. To scrape the surface if necessary, use the edge of a credit card. You can line shelves with contact paper after they've been dried.
Take a look at your possessions
It's easier to see what's left to organize and assign storage containers after removing old items. You should keep a running inventory of your pantry essentials. Take your shopping list with you when you go to the store.
Next, similar group items. Keeping oils, condiments, snacks, and baking essentials all in one place is makes things easier.
Clear Containers are the best option
A cluttered pantry can be the result of overly decorative packaging. Consolidate dry ingredients into transparent canisters and remove all packaging. Chip bags and veggies can be stored in bins rather than piled on top of each other on a shelf. To maintain a cohesive look, use clear food storage containers.
Every member of your family should be able to locate items in your home by labeling bins, containers, and shelves. Using a Bluetooth label or chalkboard label quickly labels items.
You can free up shelf space in your pantry if you hang organizers over any pantry doors. Spices, oils, and other items in jars work well in these organizers.
How To Clean And Organize Your Laundry Room

Empty the laundry room to the brim. Only the washer and dryer can be saved. Get rid of everything and start with a blank canvas.
Remove anything that isn't supposed to be there. Things can be thrown away, donated, and put away after you've emptied detergent bottles and trashed unwanted or unneeded items.
Pull out the washer/dryer and vacuum the area behind it, as well. Dryer vents should be cleaned regularly. Keep your washer and dryer clean by wiping down the outsides with a soft cloth. The washer needs to be cleaned out. In the drum, add one cup of bleach, then run a complete wash cycle on the hottest temperature setting possible (empty). Dust the light fixtures and wipe down all bookcases, walls, door frames, windows, and switch plates.
It's time to put everything away once the laundry room has been cleaned and organized. Using bins, baskets, and the like, arrange your laundry supplies. Remember to get rid of anything you haven't used in the last year. Please do not re-use and identify each container in the laundry room.
Clean, dry, fold and store all of your clothing. Complete each and every load!
How To Clean And Organize Your Shed
To begin decluttering your shed, you must remove all its belongings. Make a thorough inventory of your possessions.
Make a thorough cleanup and reorganization of your workspace
Please make a list of the items you want to bring back into the house and organize them into groups, such as auto care and gardening supplies. Each article should be thoroughly inspected and cleaned if necessary.
Before putting anything back, make sure the shed is spotless from top to bottom. It may not be enough to sweep the floor. Make sure to clean every crevice and gap, including the windows, doors, and corners.
How To Clean And Organize Your Garage
The Ground and Tables Should Be Decluttered
Get rid of all the junk on your floor before you do anything else. It will be challenging to get into every nook and cranny if there are a lot of boxes and other random things lying around. If you're going to put anything back on your tables, you'll need to clean them first thoroughly.
A thorough cleaning of every surface
Before anything else, you'll need to sweep and vacuum the floor. Don't forget the walls and ceiling and the floor and tables. Old cobwebs can be blown away with this. The next step is to clean the walls. To disinfect and clean these surfaces, mix equal parts water and bleach.
The final step is a thorough scrubbing of the floor. To clean, combine hot water and liquid laundry detergent. This will remove any stubborn floor stains.
Organize and Analyze Everything
Give the garage a break after you've finished cleaning it. If you've left anything outside, now is an excellent time to go through it all.
Incorporate Hooks, Shelves, and More!
To make room for everything, you'll need to put things in place first. It's easy to accomplish with the help of hooks, shelves, and boxes mounted to the wall. This will not only maximize the amount of space you have available, but it will also make your home appear cleaner and more organized.
Conclusion
Now that you have an idea of how to organize your home room by room, it's time to get started. These are the main steps to follow for each space in your house. Remember, take things one step at a time and be patient – Rome wasn't built in a day! And once you've finished organizing one area, move on to the next until your entire house is spick and span. How do you feel about getting organized? Are you ready to start tackling each space in your home? Let us know how it goes!
And remember, if you are too tired to do your own cleaning, pick a company who works for you, and with you, anywhere anytime. Pick X-Act Care for your home.
BOOK YOUR MAID SERVICE TODAY!