Dallas is a constantly growing city, and residing in it means you are always on the go. Like many other Dallas citizens, cleaning service your home must be very challenging if you have a busy schedule. 
If you have been struggling with cleaning your house and are considering hiring professionals, X-Act Care Cleaning service is here to help you. We provide commercial, residential, and luxurious services in Dallas, covering areas such as Highland Park, University Park, Lakewood, and Preston Hollow. 
So if you are ever looking to clean your home, contact us by booking an appointment online. We will be happy to offer our premium cleaning services. 
Different Cleaning Services 
You could find it intimidating to analyze what cleaning service your home needs. If you're a regular home cleaner, then weekly home cleaning is a good option, but if you have not cleaned your home in months, it is high time you get it deep cleaned. 
It could be very intimidating to decide what type of cleaning service your home is in need of. If you are a regular home cleaner, then weekly home cleaning is a good option, but if you have not cleaned your home in months, it is high time you get it deep cleaned. 
Here are the different cleaning services that we offer: 
We'll try our best to make using our house cleaning service simple for you when you contact us at X-Act Care. Dallas, Texas, residents can rest easy knowing their homes are in capable hands thanks to our skilled and vetted team. We also carry our own equipment and supplies, including eco-friendly products, to ensure we have everything we require to offer you a spotless house, just like you expect.
Thanks to our complimentary in-home estimates, we can ensure that you receive the detailed, tailored services you require in the Dallas area. We provide several options for regular house cleaning, including weekly, twice-a-week, and monthly selections.
You can count on a sparkling home whenever you hire our regular cleaning service. This will spare you time to do what you love the most when you regularly employ the dependable, compassionate team members from X-Act Care to handle your domestic cleaning requirements. Give our Dallas, Texas office a call right away to find out more or to get started because we are the best.
Deep Cleaning Services
When they think about deep cleaning, most individuals consider sweeping, scrubbing, brushing, and dusting as a part of it. Even though these jobs account for the majority of daily chores, your home sometimes needs something more.
You occasionally require a thorough cleaning to help you maintain a healthy lifestyle. At X-Act Care, we provide thorough cleaning services that will reach those difficult-to-reach places and get rid of elusive dust and grime.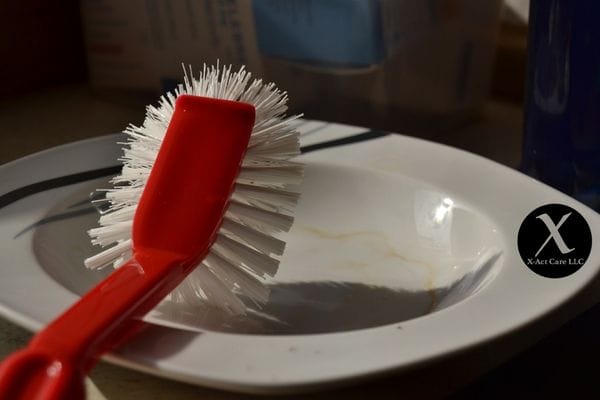 Even if you might not need to sweep your home every time you clean it up thoroughly, it's still necessary to include it on a regular basis in your cleaning routine. In order to retain the initial effects of a thorough clean, we at X-Act Care make sure that your home is regularly cleaned using a rotational approach.
Knowing when to hire expert deep cleaners is equally critical to maintaining a healthy house as regular deep cleaning. Keep an eye out for these warning signs:
       

Unpleasant Smells:

Occasionally, you can encounter foul odors that are challenging to locate and deodorize. You should contact us about our deep cleaning services if your home has these smells.

       

Stained Doors:

Many people ignore the requirement to clean doors and door frames on a regular basis. Doors start to change color and get sticky with all the collected dirt if they aren't cleaned for a while. These indicators indicate that your entire home needs a comprehensive deep cleaning.

       

Discolored Floors:

Even minor stains on the floor are frequently a clue that your home needs to be thoroughly cleaned. 

       

Hidden Dust:

Every nook and cranny of your house will be spotless and free of dangerous microorganisms thanks to our thorough deep cleaning.

       

Regular Sneezing:

If this just occurs when you are home, your home may need a deep cleaning because it is likely cluttered and dirty.

       

Corroded Windows and Doors:

Call our maid service so they can perform a deep cleaning for you when you see some rusting on your doorways, frames, and other metallic components of your home.
Emptying your garbage cans is only one aspect of cleaning your workspace. There are many things in it that you probably wouldn't even consider. Hence, we are the company you contact when you want your office cleaned properly.
We'll visit and tour the job site together before we start so you can inform us what you need to be done. Then, we'll offer more suggestions to address problems you hadn't even considered.
Airbnb Cleaning 
With the help of our Airbnb cleaning service, visitors will gush about how lovely and tidy your house is. Your house will continue to be reserved for weeks and months in the future due to the great evaluations you'll be collecting as a host.
Office Cleaning 
We provide cleaning service for all types of offices, whether you run a small or large business in Dallas. Unlike other office cleaning services in the area, X-Act Cate makes scheduling a session at short notice exceedingly clear and easy.
Janitorial Services
We ensure our care com house cleaning team does the right job by providing excellent services. The duties we fulfill under janitorial services are cleaning, taking out the trash, mopping the floors, and managing the supply inventories. We sometimes change light bulbs and fix door knobs. If you are ever looking for janitorial services, contact us, and we will be happy to serve you.
Carpet Cleaning 
Even without taking into account the harm caused by mishaps and spillage, regular foot traffic is sufficient to taint and ruin the fibers.
With the expert and reasonably priced carpet cleaning service provided by X-Act Care, you can prolong the life of your carpets and have them as good as new for an extended period.
Disinfection Services 
The COVID-19 outbreak altered how the companies run. To guarantee the health and well-being of your employees, a regularly sanitized office is now more than simply a preference.
With a commercial viral disinfecting solution from X-Act Care, keep your workstation secure and accessible. We employ the newest and most efficient hospital-grade antiseptics to keep your workplace clean and free of harmful infections.
Whether you want commercial or residential cleaning, care com house cleaning is what you need. If you live in Dallas, we got you sorted. Our team has professionals who work hard to serve our customers with the best services. Book an appointment with us and get your home, office, and apartment cleaned professionally.
Pudes leer: A Smarter Way to Clean Your Home: How to Deep-Clean Every Room in Your House
Book a Cleaning Service Today!
Check out our Public Profiles: